Elitewushu Fitness & Sports, since 2004, is setup specially dedicated to budding local wushu talents. A passionate strong team of wushu elites, all experts in their respective forms of the art, looks to share their expertise in wushu through coaching and exchanging of pointers. In addition, we serves to extend the art and morality behind wushu to students by formulating customised programmes to suit the needs of each and every participating schools or community. Through our synergistic team of wushu coaches, we aim to develop young potentials in Singapore in the mastery of wushu and to nurture discipline and morality in the youths and children of today.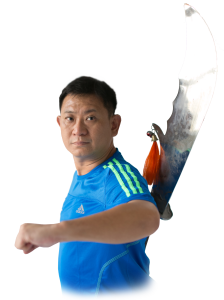 Advisor – Mr. Quek Chun Yang
Mr. Quek was awarded the prestigious 'Coach Recognition Award' by the Singapore Sports Council (currently Sport Singapore) for 2 consecutive years in 2006 and 2007. He has groomed numerous national and regional champions over the years since 1996. As a head coach of Tao Nan School, he has led the school to achieve 5 consecutive years of divisional champions at the National Inter- Primary School Wushu Competition since 2005 when wushu was first recognised by the Singapore Primary School Sports Council. All schools which he has coached formerly have won medals at national and school level competitions.
In his time as a national athlete, Mr. Quek brought glory to Singapore at various international competitions, including a Bronze Medal at the 17th SEA Games and representative for 3rd Asian Wushu Championship and 1st World Wushu Championship.
Mr. Quek started wushu judging since 1996 and made his way through from Judge, Head Judge, Deputy Chief Judge and currently a Technical Committee which oversees judging operation in the National Schools Wushu Championship and National Wushu Championship. Mr Quek is also a Grade 'A' international judge. He has represented Singapore as a judge in numerous regional and international platforms including Asian Youth Championship, World Junior Championship, World Sport Accord Combat Games, SEA Games, Asian Games and World Championships. Mr Quek was also appointed as Member of Jury in 28th SEA Games (Wushu) hosted in Singapore.
At Elitewushu, Mr. Quek oversees the training programme and athletes' route of advancement, in addition to the coaches-mentoring programme. He is patient and has the capability to attract, understand and motivate students to concentrate in trainings and trigger their desire to achieve. He believes in mentoring them to be people of great and respectable character.
Wushu Achievements:
Selected for Singapore Wushu Team (1989 – 1993)

Bronze Medalist for 17th SEA Games (Singapore, 1993)

Singapore representative for 3rd Asian Wushu Championship (Seoul-South Korea, 1993)

Gold Medalist for National Wushu Championship 1992

Overall (3 events) Bronze Medalist for National Wushu Championship 1992

Singapore representative for 1st World Wushu Championship (Beijing-China, 1991)

Bronze Medalist for National Wushu Championship 1991
Wushu Coaching Qualifications:
NROC (National Registry Of Coaches) certified (by Sport Singapore)

Registered Instructor for offering Co-Curricular and Enrichment Activities to MOE Schools

NCAP (Technical in Wushu) Level 1 (certified by SWDLDF)

NCAP (Theory) Level 3 (certified by Sport Singapore)

Certified First-aider

 

-Qualified International Wushu Coach (certified by IWUF)

Chinese Wushu 6 dan (certified by China Wushu Association)

Qualified martial art instructor (certified by MACU)

Australia Strength & Conditioning Association Coaching Level 1

 

(certified by Australian Sports Commission)
Wushu Judging Qualifications and Appointments:
    

Local
Certified Singapore Wushu Judge since 1996 (certified by SWDLDF)

Appointed SWDLDF Vice Chairman of Wushu Sub-Committee for 2013 & 2014

Appointed Technical Committee for National School Wushu Competition and National Wushu Championship 2011 – 2016

Appointed Vice-Chairman of Judging Sub-Committee (SWDLDF) for National Schools Wuhsu Competition 2009 & 2010

Appointed Deputy Chief Judge National Wushu Championship 2008 – 2010 and National Schools Wuhsu Competition 2008

Appointed Head Judge for National Wushu Championship and National Schools Wuhsu Competition from 2000 – 2007 & 2011

Appointed Judge for National Wushu Championship from 1996 – 1999
    

International
International Grade 'A' Wushu Judge (certified by IWUF since 2004)

Appointed Member of Jury for 28th SEA Games – Wushu (Singapore, 2015)

Guest Chief Referee for Indonesia National Wushu Championship 2015 (Bandung-Indonesia)

Appointed Judge for 13th World Wushu Championship (Jakarta-Indonesia, 2015)

Appointed Judge for 17th Asian Games (Incheon-Korea, 2014)

Guest Chief Referee for Indonesia National Wushu Championship 2014 (Medan-Indonesia)

Appointed Judge for 3rd World Games – Wushu (Cali-Colombia, 2013)

Appointed Judge for 2nd World Sport Accord Combat Games – Wushu (St. Petersburg-Russia, 2013)

Obtained IWUF Key Referee/Judge status in 2012 (Bail-Indonesia)

Appointed Judge for 8th Asian Wushu Championship (Ho Chi Minh-Vietnam, 2012)

Appointed Member of Jury for 26th SEA Games – Wushu (Jarkata-Indonesia, 2011)

Appointed Judge for 11th World Wushu Championship (Ankara-Turkey, 2011)

Appointed Judge for 1st World Sport Accord Combat Games (Beijing-China, 2010)

Appointed Judge for 3rd World Junior Wushu Championship (Singapore, 2010)

Appointed Judge for 16th ASIAN GAMES (Guangzhou-China, 2010)

Appointed Judge for 10th World Wushu Championship (Toronto-Canada, 2009)

Appointed Judge for 2nd World Junior Wushu Championship (Bali-Indonesia, 2008)

Guest judge for 17th National Wushu Championship (Medan-Indonesia, 2007)

Appointed Judge for 24th SEA Games (Korat-Thailand, 2007)

Appointed Judge for 15th ASIAN GAMES (Doha-Qatar, 2006)

Appointed Judge for 8th World Wushu Championship (Hanoi-Vietnam, 2005)

Appointed Judge for  3rd Asian Youth Wushu Championship (Singapore, 2004)

Appointed Judge for 7th World Wushu Championship (Macau-China, 2003)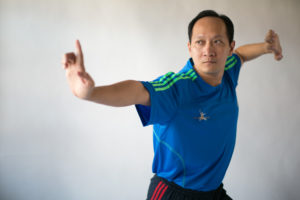 Senior Coach – Mr. Eugene Wee
Wushu Achievements:
Selected for Singapore Wushu Team (1991 – 1997)

Bronze Medalist for 1st Asia Pacific Master Games (Penang-Malaysia, 2018)

Gold Medalist for China Traditional Wushu Championship (Zhongshan (Guzhen)-China, 2018)

Gold Medalist for Singapore National Wushu Championships 1996

Participated in the 1st National Wushu Display held at Singapore Indoor Stadium (1995)

Bronze Medalist for Singapore National Wushu Championships 1991
Wushu Coaching Qualifications:
NROC (National Registry Of Coaches) certified (by Sport Singapore)

Registered Instructor for offering Co-Curricular and Enrichment Activities to MOE Schools

NCAP (Technical in Wushu) Level 1 (certified by SWDLDF)

NCAP (Theory) Level 3 (certified by Sport Singapore)

Certified Coaches Accreditation Programme by Sport Singapore, CCAB 

Certified First Aider 

Certified PA Trainer (by People's Association) 

Certified Wushu Judge (by SWDLDF)
---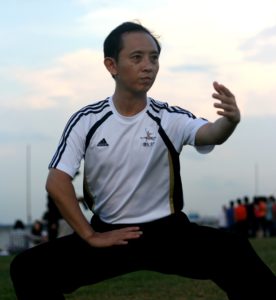 Senior Coach – Mr. Quek Chun Huei
Wushu Achievements:
Selected for Singapore Wushu Team (1992 – 1996)

5th position for 3rd World Wushu Championship (Baltimore-USA, 1995)

Participated in the 1st National Wushu Display held at Singapore Indoor Stadium (1995)

Gold Medalist for Beijing Wushu & Taichi International Competition (Beijing-China, 1994)

Overall (3 events) Champion for National Wushu Championship 1994

Silver Medalist for World Wushu Commonwealth Athletes (Kuala Lumpur-Malaysia, 1993)

Bronze medalist for Champion for National Wushu Championship 1992
Wushu Coaching Qualifications:
NROC (National Registry Of Coaches) certified (by Sport Singapore)

Registered Instructor for offering Co-Curricular and Enrichment Activities to MOE Schools

NCAP (Technical in Wushu) Level 1 (certified by SWDLDF)

NCAP (Theory) Level 3 (certified by Sport Singapore)

Certified First Aider 

Honorary Wushu Consultant for China Mulan Quan Arts School (Singapore)
---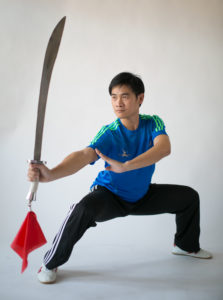 Coach & Sports Executive – Mr. Ivan Teo
Wushu Achievements:
Selected for Singapore Wushu Team (1999 – 2004)
Gold Medalist for 1st Asia Pacific Master Games (Penang-Malaysia, 2018)
Gold Medalists for Inter-School Wushu Competition 2000, 2002 & 2003
Gold Medalists for National Wushu Championship 2000, 2002, 2004, 2008 & 2011
Overall (3 events) Champion for National Wushu Championship 2000 
4th Position for 22nd SEA Games (Hanoi-Vietnam, 2003)
8th Position for 7th World Wushu Championships (Macau-China, 2003)
Bronze Medalist for Shanghai World Grand Wushu Festival (Shanghai-China, 2002)
Gold Medalist for Beijing Wushu Invitation Competition (Beijing-China, 1999)
Bronze Medalist for National Wushu Championship 1999
Participated in the 3rd National Wushu Display held at Singapore Indoor Stadium (1999)
Wushu Coaching Qualifications:
NROC (National Registry Of Coaches) certified (by Sport Singapore)
Registered Instructor for offering Co-Curricular and Enrichment Activities to MOE Schools
NCAP (Technical in Wushu) Level 1 (certified by SWDLDF)
NCAP (Theory) Level 2 (certified by Sport Singapore)
Certified First Aider 
Certified PA Trainer (by People's Association)
Certified Wushu Judge (by SWDLDF)
---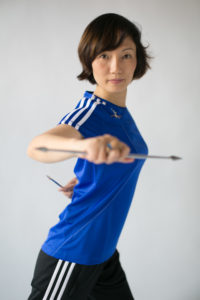 Coach – Ms. Wang Jue
Wushu Achievements:
Gold Medalist for Shanghai City Wushu Championship 1981 & 1983
Overall Champion for 7th Shanghai City Sports Meet 1982
Overall Champion for Shanghai High School Sports Meet 1984
Overall Champion for Chin Woo Invitational Championship 1992
Graded as Wushu "Grade One" athlete by the Chinese Wushu Association
Wushu Coaching Qualifications:
NROC (National Registry Of Coaches) certified (by Sport Singapore)
Registered Instructor for offering Co-Curricular and Enrichment Activities to MOE Schools
NCAP (Technical in Wushu) Level 1 (certified by SWDLDF)
NCAP (Theory) Level 1 (certified by Sport Singapore)
Certified First Aider
---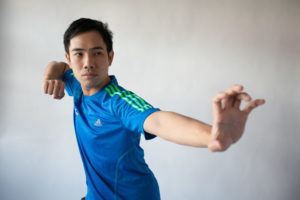 Coach – Mr. Randy Teo
Wushu Achievements:
Selected for Singapore Wushu Team (1999 – 2002)
Silver Medalists for National Wushu Championship 2000 & 2002
Silver Medalist for Inter-School Wushu Competition 1997, 2000 & 2001
Gold Medalist for National Wushu Championship 1999
Bronze Medalist for South East Asia Wushu Championship 1999
Participated in the 3rd National Wushu Display held at Singapore Indoor Stadium (1999)
Wushu Coaching Qualifications:
NROC (National Registry Of Coaches) certified (by Sport Singapore)
Registered Instructor for Offering Co-Curricular and Enrichment Activities to MOE Schools
NCAP (Technical) Level 1 (certified by SWDLDF)
NCAP (Theory) Level 1 (certified by Sport Singapore)
Certified First Aider
---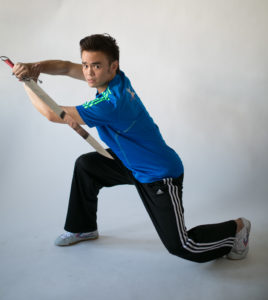 Coach – Mr. Brendan Goh
Wushu Achievements:
Selected for Singapore Wushu Team (2004 – 2009)
Singapore representative for 25th SEA Games (Vientiane-Laos, 2008)
Singapore representative for 10th World Wushu Championship (Toronto-Canada, 2009)
Silver Medalists for Beijing Invitational Wushu Championship (Beijing-China, 2007)
Gold Medalists for National Wushu Championship 2006, 2008 & 2011
Gold Medalist for Inter-School Wushu Competition 2003
Silver Medalists for National Wushu Championship 2002, 2004 & 2005
Silver Medalists for Inter-School Wushu Competition 2002 & 2004
Bronze Medalist for Inter-School Wushu Competition 2001
Wushu Coaching Qualifications:
NROC (National Registry Of Coaches) certified (by Sport Singapore)
Registered Instructor for offering Co-Curricular and Enrichment Activities to MOE Schools
NCAP (Technical in Wushu) Level 1 (certified by SWDLDF)
NCAP (Theory) Level 1 (certified by Sport Singapore)
Certified First Aider